The 1980's
The 1980's. A decade with Folk out of fashion and the band having young families to raise or lots of outside business interests. The Band reformed in 1980 after its only period of non-existence and the early 80's especially was never more than a part time job for the members. They still managed to tour the UK every year apart from 1983, released 3 studio albums and had multiple tours of Australia and the US. Without doubt the hardest period to get information and there are a few gaps.

June
The Reunion 
Rumours of a return started around this time in the press. Chrysalis Records approached Maddy and Rick to return for a new album after Warwick Records had approached Chrysalis to Licence a 'Best Of' collection for them to sell via their normal TV Advert route (which never actually happened). Chrysalis realised that with the interest and free advertising this would generate, that an album of new material would sell well along side it. They were only interested however if the classic line up returned which meant Maddy and Rick reaching out to the rest of the band.
The band themselves were struggling with Solo efforts, with none being as successful as they would have liked. This offer gave them the opportunity to explore their own songwriting in a band setting that had a better chance of success. They also decided that it would be a shame not to tour with the new album.
Apparently the the band wanted Mike Batt to produce new album but he was taking 2 years off music, sailing around the world. They got in Gus Dudgeon, long time producer for Elton John.
July
  Maddy/Bob/Peter/Rick/Nigel/Tim reform band in the 'Classic Line Up'
 20th: Torquay - Harbour side. Per Poster. 1st Appearance Back?
 Europe?? I have seen one mention of a tour in Europe
August
 1st: 'Maddy Prior Band' Single - Wake up England(Kemp)/Paradise(Prior) (EMI).
Did not appear on any album and is 2 years before the 1st 'Maddy Prior Band' Album, which was not on the EMI label. So it was a bit of a curious release. Whether it was released to latch-on to the Steeleye relaunch, or was actually an already committed to single, and a potential album was aborted because of the Steeleye re-launch is not known. Not available on any collections.
November
 14th Nov: TWELFTH ALBUM: Sails of Silver (Chrysalis)
With the return of the Classic line up the band for the first time released an album of mainly original compositions. As Maddy said: "What we came up with reflected traditional themes, yet sounded contemporary". When the band first practised Gus Dudgeon did not think the songs were strong enough and so sent them off to write some more. Tim Hart said that they were at one point one track short and so he went off into a little studio to finish the words to 'My Love' so they could add it to the Album. Rick did the same with 'Where are they now', sitting up all night to finish it the day before recording.
The Tim Hart booklet, 'The Complete Steeleye Span', was given with initial purchases of the LP at HMV.

1.Sails of Silver 2.My Love 3.Barnet Fair 4.Senior Service 5.Gone to America 6.Where are they Know 7.Let Her Go Down 8.Longbone 9.Marigold/Harvest Home 10.Tell me Why. Bonus Live tracks from 1996/7 on CD reissue: 11.Thomas the Rhymer 12. My Johnny was a Shoemaker 13.The Lark in the Morning.
SINGLE: Sails of Silver. Written by Tim Hart. (b side: Senior Service)

Winter UK Tour Comeback Tour
support: Canis Major (and Michael Chapman at selected venues)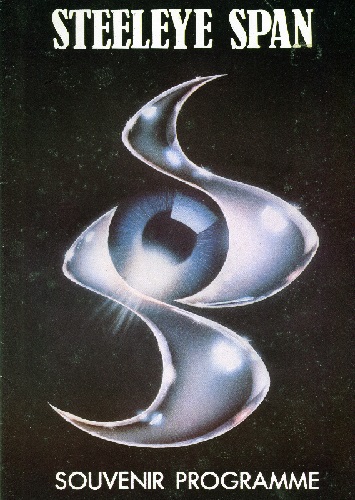 3rd Brighton Dome
 4th Ipswich Gaumont
 5th Birmingham Odeon
 6th Southport Theatre
 7th King Georges Hall, Blackburn
 8th St Georges Hall, Bradford
 11th Colston Hall, Bristol
 12th Winter Gardens, Bournemouth
 13th Southampton Gaumont
 14th Manchester Apollo
 15th Newcastle City Hall
 16th Edinburgh Odeon
 18th Hammersmith Odeon
January
 20th: BBC2 TV: 'Jake Thakray and Songs'. Guest Appearance by 'Maddy Prior Band' on one of these 6 episode series. Recorded at the Hare and Hounds in Kings Heath, during 1980. The episode is still held by the BBC and Jake's songs from it have appeared on a collection DVD but not sadly this guest appearance by Maddy. It is not known how many songs they played but the guests usually did 2 or 3.

March/April
Spring UK Tour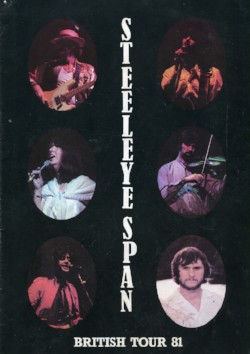 21st Ipswich Gaumont
 22nd Fairfield Halls, Croydon
 23rd Brighton Dome
 24th Birmingham Odeon
 26th Gloucester Leisure Centre
 27th Stoke Hanley Victoria Hall
 29th Liverpool Royal Court Theatre
 30th Glasgow Apollo. £3.75. Up from £1.50 in '75 & '78. Last appearance at the Apollo.
 31st Endinburgh Usher Hall
 1st Newcastle City Hall
 2nd Sheffield City Hall
 4th Free Trade Hall, Manchester
 5th Wolverhampton Civic Hall
 6th Leicester De Montford Hall
 7th ST Georges Hall, Bradford
 8th Assembly Rooms, Derby
 10th Colston Hall, Bristol
 11th Hammersmith, Odeon
 12th Croydon, Fairfield Halls
 14th Oxford New Theatre
 15th Portsmouth Guildhall
 16th Poole Arts Centre
 17th Cornwall, St Austell Coliseum

May

 25th London, Barbican Bank holiday with Akimbo.

July

 17th Fete des Leus Frasnes-Lez-Couvin, Belgium
 Vienna? Newspaper article in April says they will be Vienna after a 'series of gigs at summer festivals.  

 

31st July Cambridge Folk Festival.




Recorded by BBC and tracks were played on Radio 2's 'Folk on Two' programme (3rd Sept '81 & 29th March '82). In total the following were broadcast in the UK: All Around My Hat; Cam Ye; Long Lankin; Royal Forester; Gaudete and Senior Service. The latter can be found, in particularly good quality, on Youtube -

LINK

) . 'Hat' can be found on a Cambridge Folk Festival collection CD, the others on Bootlegs.

Almost the whole concert was broadcast on Belgium Radio, and it sounds like Steeleye played two separate sets, but can't be 100% sure. Based on the above the full set list was:

Black Jack Davy; Two Magicians; Saucy Sailor; Longbone; Sir James the Rose; Thomas the Rhymer. Part 2: Sails of Silver; Long Lankin;

Cam Ye (not broadcast in Belgium so not sure of order); Senior Service;

Royal Forester; Encore: All Around My Hat; Gaudete.


September


3rd:BBC TV Highlights of the 17th Cambridge Folk Festival
Included Cam ye o'er Frae France/All Around my Hat. A short video clip was shown on the 2005 BBC Folk Awards when Steeleye were awarded the Good Tradition Award so all the footage should still exist somewhere.

18th BBC TV: Pebble Mill at One.

Appearance by Steeleye Span. Performed 'Saucy Sailor' . Pete's pickup falls off his violin at the climax of the song for a few moments!




October

27th BBC2 TV: ' The Other Music'.

Documentary about The folk revival from 1945 to now. Not sure what is shown but Steeleye Span definitely featured.





Unknown Date (1981)

Isla St. Claire " The song and the Story". Children's TV programme plus Soundtrack LP

This TV series (plus LP) features Scottish presenter and singer Isla St. Claire singing traditional songs backed by members of Steeleye Span (band not on screen) - Rick Kemp and Nigel Pegrum. It also features Richie Close who was part of the 'Maddy Prior Band'. Some songs can be seen on You Tube.





Unknown Date (1981)

 

Tim Hart & Friends -

My Very Favourite Nursery Rhyme Record (EMI - Music for Pleasure)

Not a Steeleye release, and although the 'Friends' were many, it included Maddy on a most songs, along with Rick on Bass, Peter on Fiddle and Bob on vocals on a couple.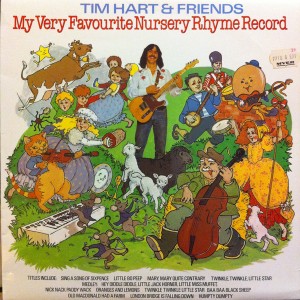 November


 11th Assembly Rooms Derby. Date per Chas Gilbert so likely to be a tour.

Jan/Feb
 Australian Tour.
After 7 years the band return to Australia for their third tour here. This, and the 1984 tour have provided plenty of live material that has since been released. Support act was a local band, 'The Cobbers'
Set list: The King; Black Jack Davy; Sails of Silver; Let Her Go Down; Alison Gross; Barnet Fair; I have a Wish; Gone to America; Longbone; Bach goes Limerick; Little Sir Hugh; Thomas the Rhymer; All Around My Hat; Gaudete; Royal Forester; Sligo Maid; Cam Ye O'er France.
 28th Sydney Capitol Theatre
 29th Canberra Theatre. 2 Shows. Evening show was sold out so an additional show was put on starting at 5.30pm
 30th Brisbane Festival Hall
 2nd Newcastle Civic Hall
 4th Sydney Capitol Theatre
 5th Melbourne Dallas Brooks Hall
 6th Melbourne Dallas Brooks Hall
 8th Adelaide Opera Theatre. 
 On Tour album recorded during the Sound Check with the Audience applause then dubbed in. One of the two Adelaide concerts was then recorded and played out in full on Australian Radio on 28th December on ABC-FM.
 9th Adelaide Opera Theatre.
 10th Perth concert Hall
Date Unknown
 The Maddy Prior Band' release album 'Hooked on Winning. (Kempire Music) The Album features Rick Kemp and is mainly original songs written by Rick and Maddy. I think it was released on Nigel Pegrum's own record label - Plant Life in Australia. It was Maddy's first 'solo' album since the two with Chrysalis back in 1978.


14th August: Cropedy Appearance for 'Maddy Prior Band'. A DVD of the weekend ('A Peculiar Old Weekend') with the band singing 'Love's not just a Word' is available. It is also on YouTube 'HERE'. They are at 7 minutes in.


 "Over a dozen European Festivals"/European Tour?

There is a T Shirt that is printed "European Tour 1982" that was for sale on Ebay. No dates on it.
 20th Aug: 'Billingham Town Centre' 'Folklore festival, Cleveland.

 27th August: Rimini, Italy. From Bootleg: BlackJack Davy; Sails of Silver; Alison Gross; Let Her Go Down; Barnets Fair; Long Lankin; Royal Forrester; Longbone; Bach Goes Limerick; Little Sir Hugh; Gone to America

September
 Australian Tour?? One mention of it but no evidence.

November/December
 Winter UK Tour . Tim Hart's last Tour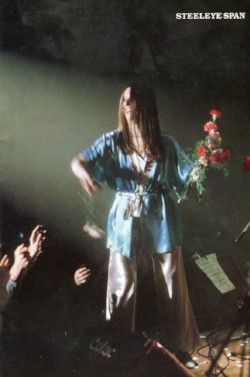 12th Goldiggers, Chippenham
 13th Ipswich Gaumont
 16th North Herts Leisure Centre, Letchworth
 17th The Gatehouse, Stafford . w Michael Chapman
 18th Apollo Theatre, Oxford
 19th Odeon Theatre, Birmingham
 20th St Austell Coliseum
 21st Fairfield Halls, Croydon
 22nd Winter Garderns, Bournmouth
 25th Charter Theatre, Preston
 26th Apollo Theatre, Manchester
 28th Coatham Bowl, Redcar
 29th Queens Hall, Edingburgh
 30th Sugarhouse, Lancaster
 2nd Queensway Hall Dunstable
 3rd Southampton Gaumont
 5th Dartford Orchard
 6th Hammersmith Odeon London
 7th Sheffield Lyceum
 8th Theatre Royal, Nottingham
 9th Ceasars, Bradford
 10th Theatre Royal, Norwich
TIM HART LEAVES THE BAND
TIM HART ON WHY HE LEFT STEELEYE (from Sleeve notes on solo CD)

"I left the band because I'd had enough of it, and I had two kids and a wife and I wanted to spend some time with them. Steeleye had done it all, but it had got downhill and we were playing smaller and smaller concerts and there wasn't the same thrill. We'd played Carnegie hall, we'd played the Albert Hall, we'd played the LA forum, we'd done all these major things, and when you go back to playing poxy little 900 seaters, to think it's time to call it a day; it's not going to go up from there and we're not getting any younger and the material's not getting stronger. I felt Steeleye had run its course—I wasn't getting any pleasure out of the concerts. I looked around the band and they looked bored, the audience looked bored, it was no longer exciting, and the proportion of spectacles in the audience, which is one of the things you notice from the stage, had become deafening—the audience glinted back at me, which meant they were getting older. They used to be at the front of the stage waving, and then they were staying in their seats and glinting. Also you get to a point where you ask yourself if you're going to do this for the rest of your life, and the answer is no—I'm not Mick Jagger—and so at some point, you have to step out and start to do something else before it's too late, and I wanted to arrange, I wanted to produce, and that's what I did for a while. I'd also done a couple of kids albums, nursery rhyme albums, during that intervening period, and I worked with Andy Richards, the synthesiser player; I really enjoyed working with him and found I had much more freedom for my ideas working with Andy, and I disliked the thought of having to go back to Steeleye. This tour came up and I made my mind up—I went to the manager and said I was going to leave at the end of the tour, I didn't want to let people down, but I wanted out. At the end of the tour, I just slunk off. That was in 1982—the last gig was the Theatre Royal in Norwich. I remember that—as I packed up my guitar, I thought that's the end of that, I'll call them all up tomorrow morning and tell them I've left."
1983
(No Live performances, only 3rd year so far in 50 years)
Live LP: "On Tour"
An LP only Australian release recorded on Steeleye's 1982 tour of Australia. Fortunately most of the tracks were later released on the 2001 CD: 'Gone To Australia (1975-1984).

 'Maddy Prior and the Answers' Album: 'Going for Glory'.
Again a set of original Rick/Maddy songs. This time a new band name (albeit with virtually the same band) and a new label - 'Spindrift'.


With limited Steeleye activity around this time and I suspect a little disappointment with Record sales of 'Sails of Silver' plus doubts about Tim Hart's future in the band, then it would have been seen as good time to try again with Rick/Maddy band. The absence of a Steeleye Album suggests that Chrysalis only gave them a one album deal in 1980 and that Sales were not high enough to justify any more. The band had been with the Label since 1973 so losing them is probably the main reason for no new material during these years. In addition, all the outside interests of the band members meant the band would continue on an ad-hoc basis for most of the 80's
8th July: TV Appearance for the 'Maddy Prior Band' 10.15-1045, BBC 1. Their own billed show. No further details

Summer: Appearance for' Maddy Prior Band' at the 'Trowbridge Pump Festival'

Unknown Date (1983)

Tim Hart & Friends -
Drunken Sailor and Other Kids Songs (EMI - Music for Pleasure)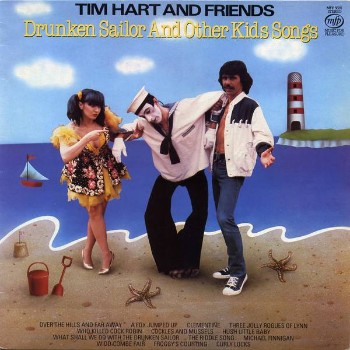 The 'Friends' included Maddy and Rick again but not Bob or Peter. There was a Promo video made for 'Drunken Sailor' (the picture of three on the cover is from it) which was on Youtube for a number of years but sadly seems to have disappeared.
1984
A busy year touring UK, Australia and US.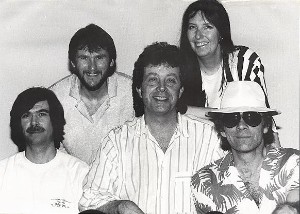 January/February
 Australian Tour 'Gone to Australia'
The 4th tour of Australia. And the bands first ever tour, or even appearance, without Tim Hart. After a two year break the band introduce 3 new songs - Lady Diamond & Scarecrow which will make their way onto the next album in 1986, and the 'Autumn to Spring Medley', which available on the 'Rare Collection 1972-1996' CD.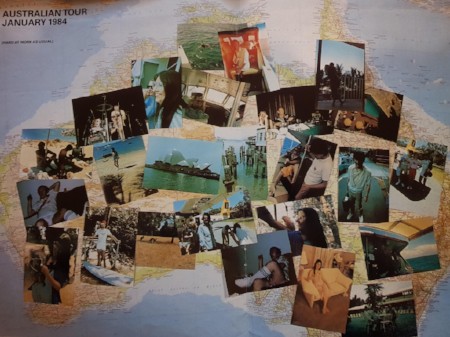 10th Perth Concert hall. Bootleg: Back Goes Limerick; Blackleg Miner; Black Jack Davy; Longbone; Bachelors Hall; Spotted Cow; Thomas the Rhymer; Harvest Home - 'Autumn to Spring Medley'; Scarecrow; Lady Diamond; Royal Forester; All Around My Hat; Encore: Gaudete; The Mason's Apron
 13th Sydney Town Hall
 17th Cairn Civic Centre
 18th Townsville Civic Centre
 21st Brisbane Mayne Hall
 23rd Canberra School of Music
 24th Gellong Civic Centre
 25th Melbourne Dallas Brooks Hall
 28th Launceston Tasmanian Folk Festival
 1st Adelaide Opera Theatre
February/March
UK Spring Tour (lots of dates missing!)
 15th Feb: Digbeth Civic Hall, Birmingham. with Richard Thompson
 16th Liverpool Empire. (per Liverpool Echo)
 22nd Dundee University (ebay ticket stub)
 5th Theatre Royal , Plymouth
  10th Dominion Theatre (assume London)
 11th Fairfield Halls, Croydon. 6 tracks played from this tour on 'Folk On Two' on 17th Dec '84. Royal Forester; All Around My Hat; The Drunkard (Maddy a capella); Thomas the Rhymer; Gone to America; Jigs.
 17th Royal Concert Hall, Nottingham
 19th Dominion Theatre London. (German newspaper cutting)
 1984: Towngate Theatre, Basildon. Date unknown so not sure on which tour
 1984 Kendal Leisure Centre. Date unknown. Could be Spring or Autumn
April/May

 US 'Reunion' Tour US tour for '1st time in 7 years'
Finally Returning to the US for their 6th tour. The tour was tied tied to the fact that they had just signed to US record Label Shanachie who probably promoted the tour. No new songs appearing in the set list around this time but a continued re introduction of old songs with less reliance on Sails of Silver album.
Bach Goes Limerick; Black Jack Davy; Longbone; Bachelors Hall; When I was on Horseback; Hard Times of Old England; Thomas the Rhymer; Marigold/Harvest Home; The Spring Will Bring us Together; Blackleg Miner; Let Her Go Down; Cam Ye O'er Frae France; Lady Diamond; Royal Forester; All Around My Hat; Gaudete/Jigs/Gone To America.  
 23rd April Buffalo
 24th Venues hard to make out from photo
 25th Venues hard to make out from photo
 26th Venues hard to make out from photo.
 27th Bearklee Performance Centre, Boston. On Bootleg
 28th Venues hard to make out from photo
 29th Adams Theatre, Washington. The Band played two sets here so extra tracks not played on rest of tour, including Brown Girl and Scarecrow, both rarely played live. On Bootleg
Set 1: Bach Goes Limerick; Black Jack Davy; Longbone; When I was on Horseback; Spotted Cow; Marigold/Harvest Home; The Spring Will Bring us Together; Blackleg Miner; Let Her Go Down; Cam Ye O'er Frae France; Thomas the Rhymer; All Around My Hat. Set 2: Hard Times of Old England; Brown Girl; Scarecrow; Spotted Cow; Gone To America. Bachelors Hall; Black Leg Miner; Lady Diamond; Thomas the Rhymer; Royal Forester; Gaudete/Jigs  
 1st Venues hard to make out from photo
 2nd Venues hard to make out from photo
 3rd Ripley's Music Hall, Philli, PA
 4th Bottom Line, NY Thanks to Hugh, who was at one of these shows, says Brown Girl was played, and so similar to Adams Theatre above, they mixed up the set when playing the same venue more than once.
 5th Bottom Line, NY
 6th Bottom Line, NY
July

 13th-15th Bracknell Folk festival. Incl Dave Swarbrick, R Digance.

 21st & 22nd July: British Forces Folk Federation: International Folk and Music Festival. Edinburgh School, Münster, Northern Westfalia.
 Steeleye Headlined for two days. Thanks to Roland who told us about the Festival, the Radio show and has provided some great visual reminders.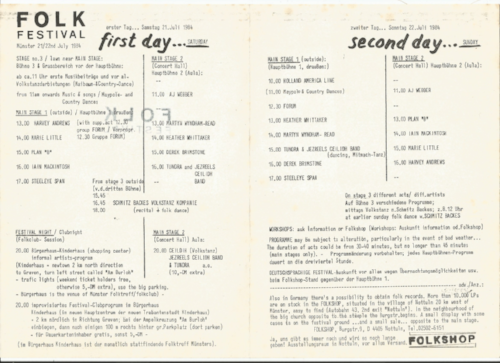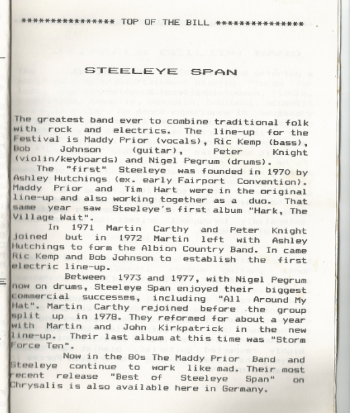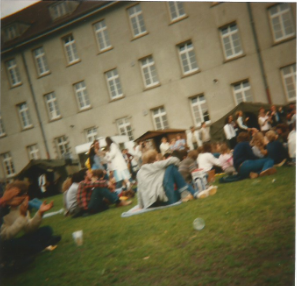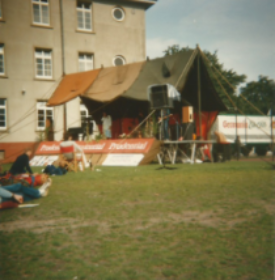 Festival was broadcast on the 'Folk review' BFBS Radio programme in Germany (with Wally Whiton)
 The show played half an hour of songs from the show: (The actual festival included Scarecrow.) Black Jack Davy; Spotted Cow; When I was on horseback; Autumn to spring medley; Hard times of old England; All around my hat.

August
UK Summer Tour.
The only time I have seen a summer Steeleye Tour, this tour seemed to be worked around some festival appearances. These tour dates are mainly thanks to Chas Gilbert.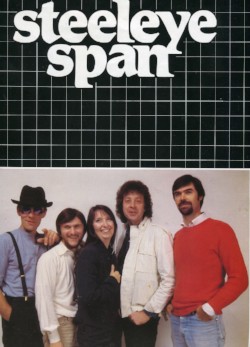 9th Harlesden,
 10th (fri) Cropedy Folk Festival
 12th St Austell
 15th Stevenage,
 17th Brighton, The Dome. w. M Chapman
 18th Farnham Maltings,
 19th Windsor,
 24th Schoten, België, Small festival with support - De Nieuwe Snaar.
 25th Folkestone

26th Nostell Priory Festival, Wakefield.
Other acts incl. Van Morrison, The Band, The Damned, Marillion. This was around the time of the Miners Strike and the festival had let the local Striling Miners in, so Maddy did an anti Thatcher rant and then they played 'Blackleg Miner', as they frequently did around this time. They dedicated it to the Miners which was sometimes controversial depending where they played it! At this festival they did not play 'All Around My Hat', which was unusual. Many thanks to Eddy Bewsher for the information and for use of his photos below.

December

 17th Dec: BBC Radio folk on two. Presented by Jim Lloyd, With Martin Simpson. Tracks played from the Fairfield Halls concert (Croydon) from 11th March: Royal Forester; All Around My Hat; The Drunkard; Thomas the Rhymer; Gone to America; Jigs.





Unknown Date

ITV: 'Highway' (Harry Secombe):

Steeleye 'sang' 'Hard Times of old England' (22.30 in video). Although it is a very

'cheesy' bit of miming/acting by the band, it is quite amusing. The actual version is not the album version and runs at well under 2 minutes so probably recorded especially for the show. Maddy Prior and Rick Kemp appeared with Michael Chapman near the start singing the Rick Kemp song 'Love's not just a word' that appeared on The Maddy Prior Band album 'Hooked on Winning'
1985
(Very incomplete, probably of the whole 50 years)
May/June
 US Tour (Rose 6 months old on tour)

 30th Phillidelphia
 31st Tower Theatre, Upper Darby, PA
 2nd June Lisner Auditorium, Washington DC w. Fairport Convention
 6th (?) Beacons Theatre, NY
 7th Beacons Theatre, NY w. Fairport Convention & Renaissance. Per 1986 programme this was Xtra Show. Bootleg played on Folkcast: Hard Times Of Old England; Black Jack Davy; Black Leg Miner; Thomas The Rhymer; Let Her Go Down; When I Was On Horseback; Cam Ye O'er Frae France; All Around My Hat ; Royal Forester; Gaudete ; Jigs
August
 11th: Gloucester Festival. Headlined. Set list included: Hard Times Of Old England, When I Was On Horseback, Thomas The Rhymer, Blackleg Miner, Spotted Cow/Reels, Let Her Go Down, Isabelle.

October / November
SINGLE: Somewhere in London (Written by Peter Knight) / Lanercost. (Flutterby records - own label)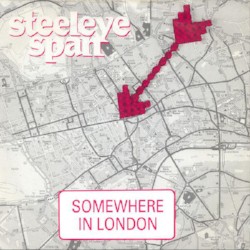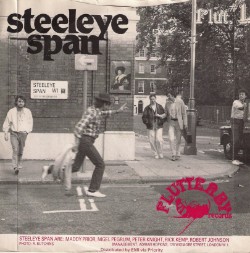 'Somewhere' UK Tour.

Dates thanks to Chas again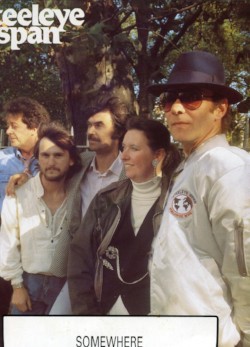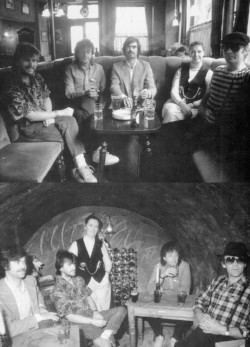 12th October Wolverhampton,
 14th Leicester,
 15th Cardiff, ST David's Hall
 16th Exeter,
 17th Barnstaple,
 18th Worthing,
 19th Aldershot,
 23rd Northampton, Derngate
 3rd Nov. Wimbledon
 4th Stevenage
  6th Oxford, The Apollo. (Now the 'New Theatre')
 7th Southport,
 8th Maccledfield,
 11th York,
 21st Nottingham, Theatre Royal. Recording of Blackleg miner for 'Back in line' album.
 22nd Birmingham Odeon
December
 20th Dec TV Appearance: BBC: Pebble Mill at One
They sang 'Somewhere in London' and 'In The Bleak Midwinter'. I say 'sang', It looks mimed. It is also on Youtube. Sadly it is very much 'of the 80's' and I can't yet face linking it directly!
UK 'Christmas Tour'

'selective major venues' per Oct/Nov tour programme. Dates missing
 ??? Fairfield Halls, Croydon
 23rd Dominion Theatre, London. (Final Concert per programme)
May
28th May BBC Radio 'Folk On Two' Session. See 'BBC Sessions' page for full details.
Thought to be recorded in the week before transmission. Maddy noted that this line up had not played the Blacksmith before so 'they were putting that right' and called it Blacksmith MkIII 

28th April : THIRTEENTH ALBUM: Back In Line

Released on the Flutterby label, one effectively owned by members of the band. It marked 6 years since the last release of new material, the most in the bands 50 years history so far. Mainly original compositions by Rick and Maddy who were working as a duo & in a band at the time. Vince Cross on DX7 (synthesizer) was a session musician listed on the album.
1.Edward 2.Isabel 3.Lady Diamond 4.Canon by Telemann 5.Peace on the Border 6.Blackleg Miner 7.White Man 8.Lanercost 9.Scarecrow 10.Take My Heart. Bonus Tracks on reissues: 11.Somewhere in London. 12. Spotted Cow (Live) 13. One Misty Moisty Morning (Live)
May

 UK Tour 'Back in Line' (15 dates).
Advertised as 'Back in the Studio, Back on the Road'. Support Bill Zorn & John Benns. Recording of songs for 'In Collection' Live album. .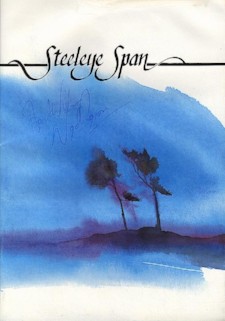 8th Edinburgh Queens Hall
 9th Newcastle City Hall. Tickets £5.
 10th Carlisle Sands centre
 11th Manchester Palace
 13th Coventry Warwick Uni
 14th Ramsgate Granville Theatre
 15th London Woolwich Coronet
 16th Southend Cliffs Pavilion
 17th Swansea Penyrheol Centre
 19th Ipswich Gaument
 21th Poole Arts Centre
 22th St Austell Cornwall Coliseum
 23th Bristol Colston Hall
 24th Eastbourne Congress
 25th Peterborough Cresset
June
 US Tour
 21st Beacon Theatre, NY
 22nd Philadelphia.  w. Strawbs.
 24th Pittsburgh. Bootleg? (Graffiti)

July
 4th-5th 'Hartlepool Dock Rock'. Including Madness, Lindisfarne; Doctor Feelgood. Up to 60,000 expected.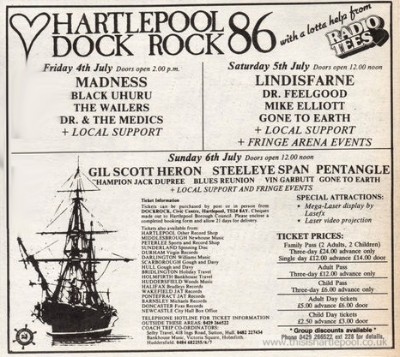 2oth July: Trowbridge Festival


August


 24th Aug: Bank Holiday. Royal Festival Hall, London. It was noted in the article that the band were returning to Australia and the US later this year., but I have not seen anything about a tour in the US.





Sept/Oct

 Australian Tour 'Back In Line'

Another tour of Australia, their 5th so far.

Lark in the Morning; Lady Diamond; Blacksmith; Peace on the Border; Lanercost; Wee Weaver; Edward; Spotted Cow; Take my Heart; White Man; Betsy Bell; All Around Hat; One Misty Moisty Morning; King Henry; Long Lankin; Gaudete; Jigs

 ?? Tweed heads, NSW. Apparently the PA system broke so Maddy ended up singing sat in the audience at one point!

 30th Sept Perth Concert Hall

 2nd Oct Adelaide Festival Theatre

 3rd Melbourne Dallas Brooks Hall

 4th Hobart, Tasman Hall

 6th Geelong Ford Theatre

 7th Appearance on Network 9 TV: 'Ray Martin Midday Show'. Singing 'Lady Diamond' Live in the Studio. See 1st Video below!


 8th Sydney Town Hall

 9th Newcastle Civic Theatre

 10th Bonaderry, RSL Club

 11th Canberra Theatre

 12th: Appearance on Network 9 TV 'The Sunday Show'. All Around My Hat and Take My Heart (fades out into end credits) played live in the studio. 2nd video below is 'All Around My Hat'


 14th Brisbane, Lyric Theatre

 15th Seagulls, Rubgy League Club

October
 British Tour??
 City Hall, St Albans. Rick still playing. Played a song called 'Pheonix'. Name of song per Nigel P.
Date Unknown 

 Kirkland Charity Concert
 1986 London Festival Hall (supported by Renaissance)  
April

 Rick Kemp (Bass) leaves band. Due to shoulder injury preventing him from touring.

 Mark Williamson (Bass) replaces Rick Picture below with Mark is from fRoots interview in 1988. He did not appear on any recordings/albums.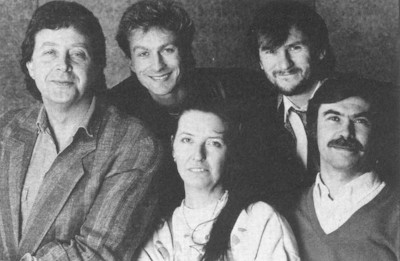 Spring UK Tour (13 dates) Support: Wild Billy Barret & Stephen Two-Name
1st Nottingham, Royal Centre
2nd Ipswich Corn Exchange
3rd Lincoln Ritz
4th Hereford Leisure Centre
5th Whyvale Theatre, Swindon
7th Northampton, Derngate
9th Bristol Hippodrome
10th Worthing, Pavillion
11th Lewisham Concert Hall
12th Beck Theatre, Hayes
13th Oakengates Town Hall
14th St Davids Hall, Cardiff
16th Cheltenham Town Hall
Unknown date
 Australia Tour?
 Adelaide Opera House  Per Bootleg, but seems likely to be 1986.
May

 25th Barbican Theatre London  w.Akimbo.
June
 20th Verona Italy, Café Dante more dates? w.Edward II, Red Hot Polka's. Tim Hart & Maddy Prior
August

 2nd Dranouter folk Festival. Broadcast on Belgium Radio
Mark Williamson on Bass (thanks Johan for all details on this Gig!). Possibly the first time Padstow was played. Padstow; Female Drummer; 4 Nights Drunk; Wee Weaver; One Misty Moisty Morning; Lady Diamond; All Around My Hat; Cam Ye O'er Frae France; Hard Times of Old England; King Henry; Encore: Gaudete; Canon by Telemann. (using Loop pedal); All Around My Hat (reprise)
US Tour.
Mark Williamson was with the band on this tour and in Cambridge sang a song for the first encore 'All I have to do is Dream', I don't know if he did every night.
 30th Aug. Philli Folk Festival. Video below from this concert, rare chance to see Steeleye live in the 80's on video. (more available on Youtube from concert).
 2nd Sept. Nightstage, Cambridge, MA; Padstow; Lady Diamond; White Man; Isobel; Take My Heart; Canon by Teleman; Betsy Bell & Mary Gray; Hard Times of Old England; One Misty Moisty Morning; Cam Ye O'er Frae France; Encore: All I have to do is Dream; All Around My Hat; Jigs; Blues Jam.
 5th (2 shows) Bottom Line, NY
 9th Birchmire. Per Bootleg: Padstow; Sir James the Rose; 4 Nights Drunk; The Blacksmith; White Man; Let her go Down; Wee Weaver; Canon by Teleman; Betsy Bell & Mary Gray; Take my Heart; One Misty Moisty Morning; Lady Diamond; Cam Ye all Frae France; Hard Times of old England; King Henry.

October

 Chris Staines (Bass) joins Band. Joined after the US Tour and before the next, so between 9th Sept and 9th Oct, not much time to prepare! Chris does not appear on an album, or even on any promo shots I can find, but he can still be considered a full member of the band, especially as this line up with Chris actually recorded in the Studio (mid 1988) but nothing ever surfaced, since once Chris Staines left there was little option to use it. (Thanks to Simon Jones for the info!)  
Autumn UK Tour

(Chris Staines definitely in the band now even though the publicity photos all still had Mark, so must have been a late change.)
 9th Oct Canterbury, Marlowe Theatre. Att 935
 10th Eastbourne
 11th Poole
 12th London
 14th Croydon
 15th Lowestoft
 16th Stevenage
 18th Oxford
 19th Swansea
 20th Cardigan
 21st Hanley
 22nd Lancaster Town Hall
 23rd Leeds
 24th Manchester
 25th York
 26th Southport Art Centre.
 27th Reading
 30th Sunderland
 31st Milton Keynes Leisure Centre
 1st Nov Derby
June

 Detailed Simon Jones Interview with Maddy Prior in fRoots. Maddy said 'we have Chris Staines in the band now.' In other later interviews it has been said that Mark and Chris only did one tour each but I suspect that it was not that simple.
Rick and Maddy toured in the Spring as a duo.
August
 'Tonder festival', Denmark. With Runrig

September
 Silly Sisters (Maddy Prior and June Tabor) Album: 'No More to the Dance' (Topic Records) 2nd and last Silly Sisters Album which was accompanied by a Tour.

November
Winter UK Tour

  2nd Colston Hall Bristol,
 3rd Madeley Telford,
 4th Arts Centre Southport,
 5th Hexham,
 6th Carnegie Workington,
 7th Wolverhampton, Wulfrun Hall.
 11th Poole Arts Centre,
 12th Bletchley?
 13th Crucible Sheffield,
 14th Theatre Royal York,
 16th St Davids Cardiff,
 17th Cresset Plymouth,  
 18th RCH Nottingham,
 19th UEA N0rwich,
 20th Apollo Oxford,
 21st Tunbridge Wells,
 22nd Corn Exchange Cambridge,
 23rd Stevenage,
 24th Warwick University,
 26th Beck Theatre, Hayes, The advert listed Mark Williamson but this must be a mistake given the interview in fRoots,
 27th Lewisham Theatre
 'end of 1988'The Pavilian, Hemel Hemstead.
 ?? date. London - Paris Theatre
1989
A busy 20th Anniversary with new drummer, new bass player, new album, two singles , 2 tours & eventually live concert DVD
April
 Tim Harries (Bass) join the Band. joined "2 weeks before a tour" and in 'early 1989'.

 10th: SINGLE: Padstow (Flutterby Records, distributed by EMI).

Written by Maddy Prior. There is a small question mark over whether it was actually Chris Staines who played Bass on this track. It would have been tricky for Tim to join and have time to record this single in time. We also know that the band did have some recording sessions with Chris which had to be shelved, or so it was assumed.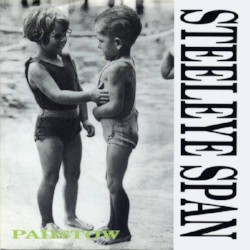 "20th Anniversary Tour" + Special Guests 'Better Days'

Many thanks to Paul Dengate, guitarist from Better Days who kindly sent the dates/Flyer for this tour as well as a review of the concert at the time and a photo (below) of Folk Rock band 'Better Days' in action. The band had fiddler Garry Blakeley who supported Steeleye on other occasions and currently plays with the Feast of Fiddles Tour.
 9th Hexagon Theatre, Reading
 10th White Rock Theatre, Hastings
 11th Birmingham Town Hall
 12th Spinnery Hill Hall, Northampton
 13th Mwldan Theatre, Wmldan
 16th Octagon Theatre, Yeovil
 17th Marlowe Theatre, Canterbury
 18th Palace Theatre, Redditch
 19th Wyvern Theatre, Swindon
 20th Bal Tabarin Ballroom, Bromley
 21st Brentford, Watermans Arts Centre
August

 11th Aug Cropedy.

September

 Band Signs to Dover Records, an arm of Chrysalis.
 SINGLE: Following Me (Dover Records), Written by Peter Knight.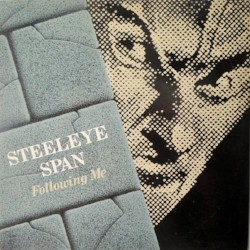 FOURTEENTH ALBUM: Tempted and Tried (Dover Records)
A new Album made to celebrate the band 20th Anniversary. A mix of traditional and original tracks, 3 each by Bob and Peter. This was Nigel Pegrum's last album. It guested Martin Ditchum on 'extra percussion'. Maybe because Nigel left before the album was 100% finished.
1. Padstow. 2. The Fox 3. Two Butchers 4. Following Me 5. Seagull 6. The Cruel Mother 7. Jack Hall 8. Searching For Lambs 9. Shaking Of The Sheets 10. Reels: The First House In Connaught, Sailor's Bonnet 11. Betsy Bell And Mary Gray.
Nigel Pegrum (Drums) leaves the Band
Leaves after recording the album and does not tour. Goes to live in Australia having been in the band 15 years having been their only full time drummer.
 Liam Genockey (Drums) Joins the Band.
Previously worked with Peter Knight and they both lived in Hastings at the time.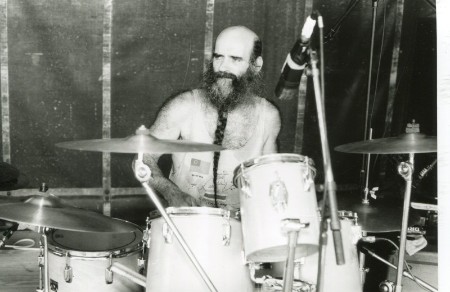 "Tempted and Tried, a 20th Anniversary Celebration" Tour.
Sailor's Bonnet; Black Jack Davy, The Fox; Shaking of the Sheets; Following Me; The Weaver and the Factory Maid; Thomas the Rhymer; When I was on Horseback (not on DVD); Seagull (Not on DVD); Searching for Lambs (not on DVD); Padstow; Cam Ye O'er Frae France; Jack Hall; Gaudete; All Around My Hat;
 15th Sept. Croydon - Fairfield halls. Liam's debut. Tracks from this played on BBC Radio 2.

 16th Hayes - Beck Theatre. Recorded for 20th Anniversary concert.CD/Video/DVD. [Video Below.]
 17th Stafford - Gatehouse Theatre
 18th Colne - Municpal Hall
 20th Exeter - St Georges Hall
 21st Cheltenham - Town Hall
 22nd Bruton - Kings School
 23rd Cambridge - Corn Exchange
 24th Wilfrun Hall, Wolverhampton
 26th Leeds - irish Centre
 27th High Wycombe - Town Hall
 11th Oct: BBC Radio 2 'Folk on Two' Steeleye Span in concert
from the Fairfield Halls, Croydon. Repeated in 'Folk On Two' 7th February 1990 but may have been different tracks.